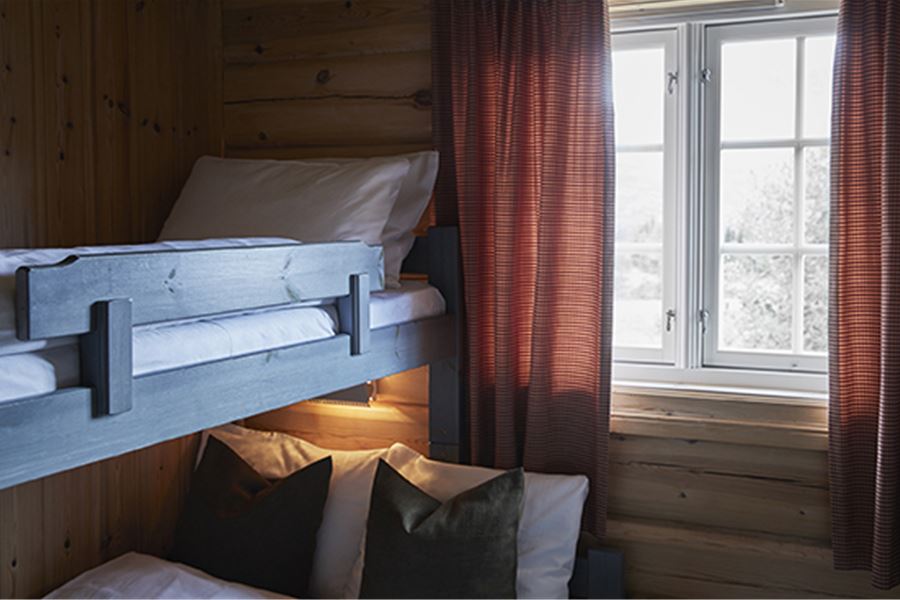 Gaustablikk Fjellhytter #701
Large and cosy cabin of 170 sqm. The cabin is suited for up to 16 people and have 5 bedrooms, 3 bathrooms, sauna, a well-equipped kitchen, living room with fireplace and patio with lovely views to Gaustatoppen. The cabin is centrally located on Gausta, about 150 metres from Gaustablikk Fjellresort and with ski-in /ski-out to Gausta Skisenter. It is also close to cross-country ski trails, a large selection of restaurants and cafes, grocery store, après ski, sports shop, ski school, ski rental and other activities. As a guest at Gaustablikk Fjellhytter, you have access to all the hotel's facilities at Gaustablikk Fjellresort, including bars and restaurants and a wellness area with pool, jacuzzi and sauna.
Cabin of 170 sqm with 5 bedrooms (rooms 1 and 2 have a double bed, rooms 3 have 2 bunk beds, rooms 4 and 5 have a bunk bed and a family bunk bed*) and 3 bathrooms, one of which has a sauna. Well-equipped kitchen with dishwasher, large fridge and freezer, stove / oven, microwave, coffee machine and crockery. Living room with fireplace, dining table, sitting area, sofa and TVi. Outside the cabin there is a terrace with lovely views and good sun chances. *The lower part of the family bunk bed is...
Cabin of 170 sqm with 5 bedrooms (rooms 1 and 2 have a double bed, rooms 3 have 2 bunk beds, rooms 4 and 5 have a bunk bed and a family bunk bed*) and 3 bathrooms, one of which has a sauna. Well-equipped kitchen with dishwasher, large fridge and freezer, stove / oven, microwave, coffee machine and crockery. Living room with fireplace, dining table, sitting area, sofa and TVi. Outside the cabin there is a terrace with lovely views and good sun chances.

*The lower part of the family bunk bed is 120 cm and can be shared by 2 people if needed.

Practical info:
- Bed linen and towels are included
- Free access to the wellness area at Gaustablikk Fjellresort
- Free parking
- Free WiFi
- Waste disposal at Kvitåvatnvegen on the other side of Gaustablikk Fjellresort
- 1/2 sack of firewood is included, more firewood can be bought at Pose & Sekk Grocery
- Final cleaning can be ordered before the stay for an extra charge
- Check-in and key collection at the reception at Gaustablikk Fjellresort from 16.00

Wc and shower/bath in room